Northwest Detroit Coin Club
"KNOWLEDGE THRU COLLECTING"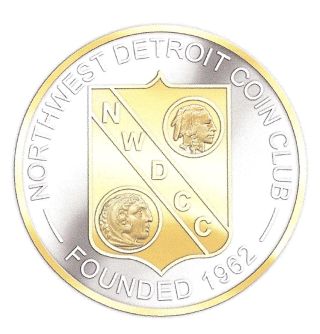 Serving the Metro Detroit Area for over 57 years.
President: Gary Kelly
Vice President: Don Priebe
Recording Secretary: Tom Klunzinger
Corresponding Secretary: Marge Mueller
---
Our next meeting will be our Christmas Party on Monday, December 9th, 2019 at 5:30 p.m.
Party will be held at
American Legion Carl Stitt Post
23850 Military Rd.
Dearborn Heights, Michigan 48127
FREE for members who have attended 6 meetings or more this year. $20 otherwise, including guests.
To reserve (or cancel), call Ron Beier at (248) 349-5777.
Additional Meeting Dates
November 12th
November 26th
Monday, December 9th
Christmas Party
December 24th


Merry Christmas

January 14th, 2020
January 28th
---
Special Events
Thank you for joining us at the most recent club coin show. Our next event is:
Northwest Detroit Coin Club
58th Annual Spring Coin Show
Sunday, March 1st, 2020
9:30am to 3:30pm
Livonia Senior Center
15218 Farmington Rd. (South of 5 Mile Rd.)
Free Admission
Open to the Public
U.S. and Foreign Coins, Currency, Gold and Silver Bullion
For more information, please contact our Bourse Chairperson at:
(734) 480-8226
nwdccboursechairperson@gmail.com
---