NorthWest Detroit Coin Club
"KNOWLEDGE THRU COLLECTING"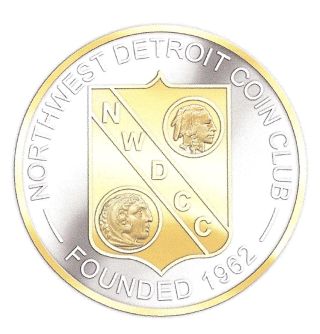 Home Information Meeting Minutes Links History Directions Auctions MyFavoriteCoin Prior Meeting Minutes
Northwest Detroit Coin Club
(nwdcc.org)
Rich Tajer Don Priebe Ron Beier Gary Kelly Tom Klunzinger Xxxx XxXxxxx Marge Mueller
Webmaster Vice President Treasurer President Recording Secretary Bourse Chair Corresponding Secretary
Next Meeting – Tuesday, May 14, 2019
Livonia Senior Center, 15218 Farmington Road – 7:30 pm
At this meeting we'll hear from our erstwhile member James Zylstra (now enjoying our Michigan sunshine) who will talk to us of Primitive Money of Africa with which he is very familiar.
We may also hear from our Coin Week Chair Mark, about the results of last month's ANA Coin Week Quiz and the prize drawing held subsequent to that – last year our Club lucked out with a gold coin!
As always, at this meeting we'll have Door Prizes, Silver Prizes, the 50/50 Drawing, tasty baked goods, congenial beverages and numismatic fellowship – we hope to have you with us!